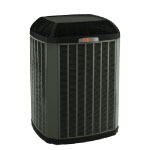 XV20i TruComfort™
Variable Speed Air Conditioner
Customize your cooling and save energy along the way.
Precise cooling
With Trane TruComfort™ variable speed technology, the XV20i continuously adjusts its speed to meet the temperature you desire. It gradually slows down or speeds up to deliver a consistent flow of cool, comfortable air.
Communication technology
The XV20i's communicating technology connects all of your key system components. Your system will automatically charge, configure and calibrate to help achieve optimal performance through the lifetime of your products.